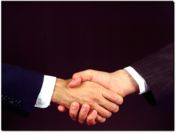 Welcome!
We have designed this site to not only make you aware of our services, but also to assist you in your web needs. The internet is in itself, a tool to share knowledge freely; to all. This is our vision as well. We hope to share our expertise and knowledge, and assist you with a web site that can be of beneficial resource to you. Our resource section has many resources that you can use yourself to build and improve your own site. If you find a resource or link that you would like added, please don't hesitate in letting us know.
Our expertise doesn't stop at web design however; we have experts in almost all phases of computer system development and have an extensive partnership program that you can rely upon to assist you in almost any computing need. From administration to web design, we will always be available and will be glad to assist you.
Thanks for your time ,
Alexander Web Design.